What's happening in Whanganui?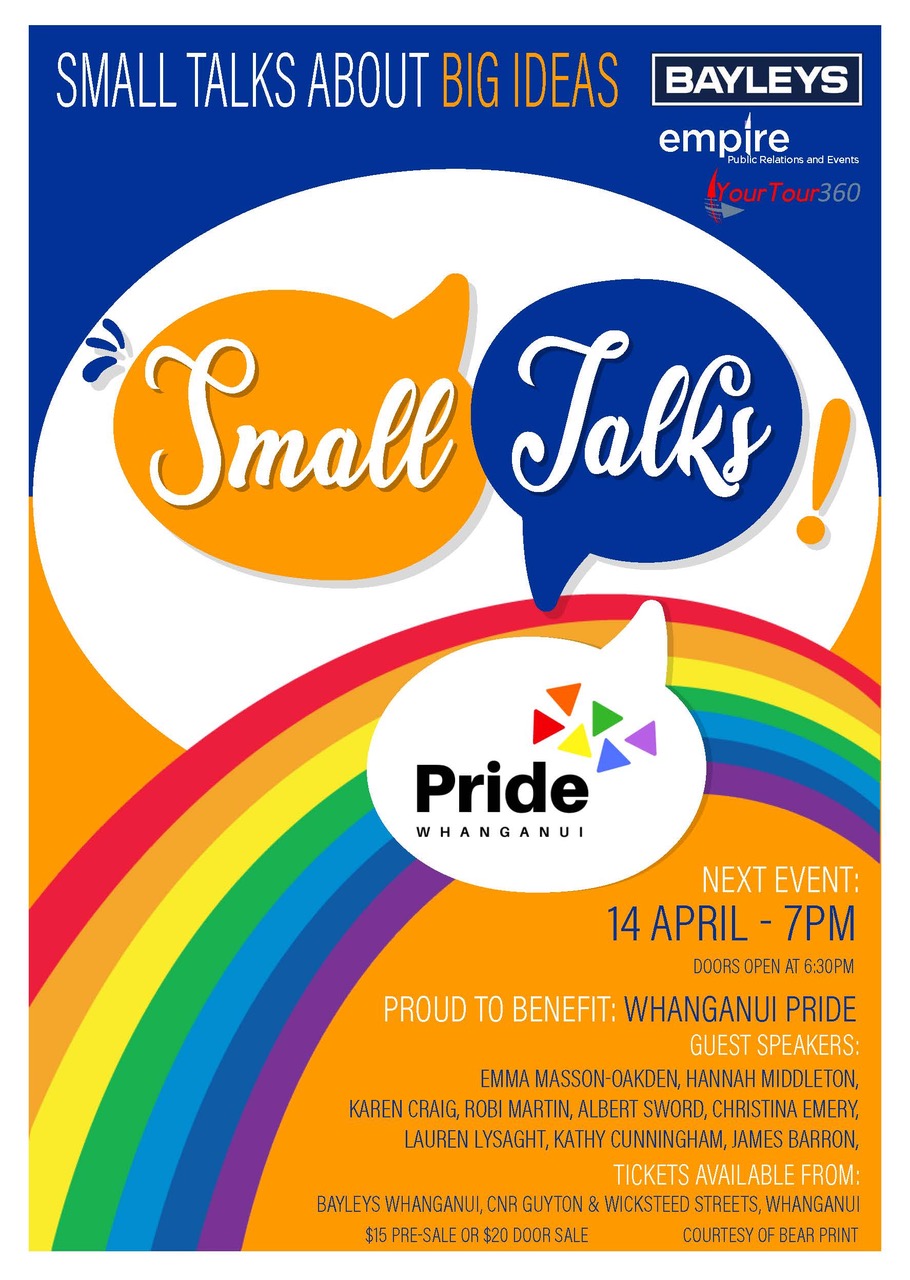 Wednesday 14th April | 7pm | Bayleys Real Estate - corner of Wicksteed & Guyton.
It's the first Small Talks of 2021 and it's Pride themed in support of Whanganui's LGBTQIA+ communities.
Tickets can be purchased at Bayleys Real Estate, cnr of Wicksteed and Guyton Streets. $15 pre-sale or $20 door sales.
Doors open 6:30pm for a 7pm start.
All proceeds to Pride Whanganui.
Our speakers this session include:
Hannah Middleton,
James Barron,
Christina Emery,
Kathy Cunningham,
Albert Sword,
Karen Craig,
Lauren Lysaght,
Emma Masson-Oakden and
Robi Martin.
Saturday April 24th | 9:45am | River Traders Market.
This is a family friendly event for all to come together and support the Whanganui LGBTTQIA+ community. This walk signifies a few things. We walk as a mark of respect for those who are no longer with us, we walk to support those who can't walk with us and we walk as a quite literal forward stepping of the community and its presence in Whanganui.
Meeting at the Silver Ball down by the River Traders Market, at 9:45am on Saturday the 24th of April, we will head off at 10am for a lap around the bridges. The brighter, the better - costumes, LGBTTQIA+ flags and colour are all encouraged! We will be doing the traditional clockwise route from the Markets. Heading along the shared pathway towards Dublin Street Bridge, right turn across the Dublin Street Bridge to Kowhai Park. Through Kowhai Park back up onto the riverside path heading towards the Riverside 4 Square/The Red. Across the City Bridge and back to the markets.
Koha/Gold coin donation for the event, with all money going to Pride Whanganui.

April 24th | Stellar Bar.
6pm doors open, 7pm performers start!
Pride Party is back ooon! Performers, music, dancing, costumes! You know it's good, so let's get it on and lets PAAAARTEEE!!
Hosted again by the fabulous Miss Ribena - this is one night not to be missed! Live Performers & Live DJ! Costumes a must! Sequins, glitter, rainbows and fabulousness! The bigger, the brighter, the better!
Miss Kerry Berry | Rhubarb Rouge | Medulla Oblongata | Antaya | Pole Dancing + more!!!
Supporting our own Rainbow Network - Pride Whanganui.
**Note location change: Now at Stellar Bar.
*** This is also the day before ANZAC Day, so we do have to finish at midnight.
**** Event is R18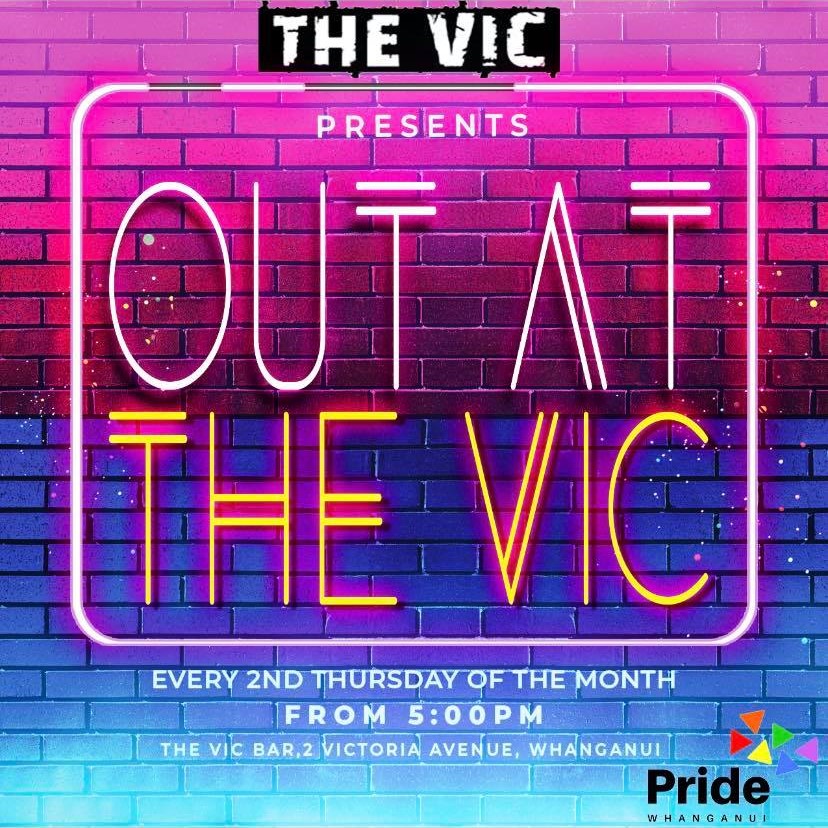 Resuming February 2021: Out at The Vic happens on the 2nd Thursday of every month from 5pm at The Vic Bar on Victoria Ave. Pop in after work, or come down a bit later - buuuut Happy Hour is 5pm till 6pm. This is a safe venue for all LGBTQIA+ peoples and supporters of, to come down and hang out with like minded people. Meet new friends, catch up with old ones, have a bite to eat and try a mouth watering cocktail.